The controversial Kamal R Khan, KRK, is always in the news for his statements. Sometimes he tweets on social media that users put up his class. In the same situation, something similar happened again that KRK has come under everyone's scanner. In fact, KRK has made its predictions on various issues.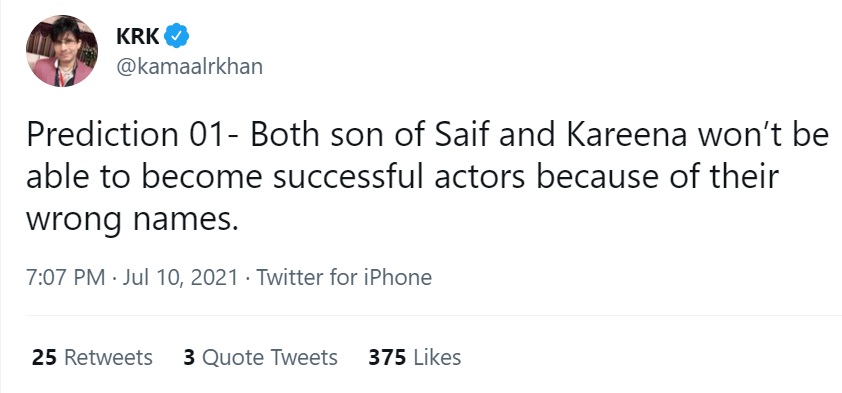 He predicted Priyanka Chopra and Nick Jonas to Saif Ali Khan and Kareena Kapoor's two children. KRK tweeted about Priyanka and Nick, 'Nick Jonas will divorce Priyanka Chopra in 10 years.' In another tweet, KRK wrote about Saif and Kareena Kapoor's two children Taimur and Jeh, 'Saif and Kareena's two sons Taimur and Jeh will never become actors because of their names.'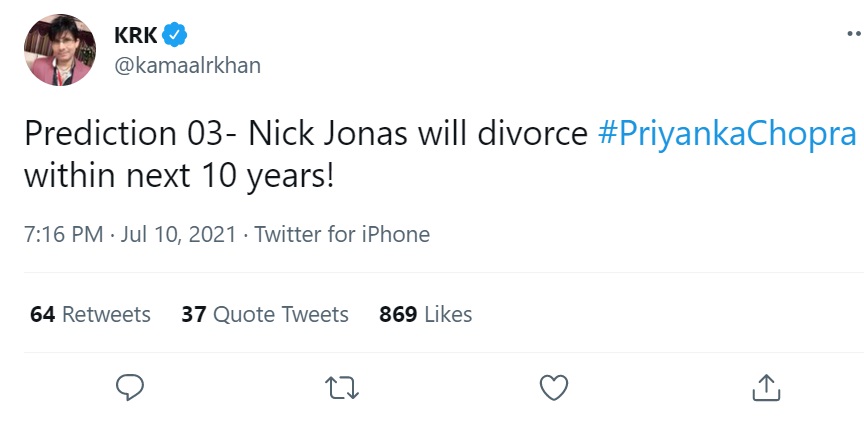 In his third tweet, KRK wrote that the actor will become a big star but after his father passed away. KRK did not write anyone's name in this tweet. However, these tweets have led to a lot of trolls on KRK social media. Somebody is speaking, sometimes you have said something good, somebody is commenting that on the day India comes, Salman will apologize to KRK in front of everyone. It remains to be seen what Kareena, Saif, and Priyanka reply to these tweets of KRK. Anyway, it is because of his frank statements that he is already in trouble as Salman has filed a defamation case against KRK.
Tiger Shroff's sibling Krishna makes big revelation about Disha-Tiger relationship
Khushi Kapoor's gym look robs millions heart, tremendous style picture surfaced
Janhvi Kapoor slammed by saddened fans for leaving a Rajasthani fan's gift on floor
Kriti Sanon announces release date of 'Bhediya' after 'Mimi'