Today is the birthday of famous Bollywood actress Disha Patani. Everyone wished Disha on her birthday. Kamal R Khan also wished Disha a happy birthday but with this wish she has screwed Salman Khan again. KRK's tweet is now going viral on social media.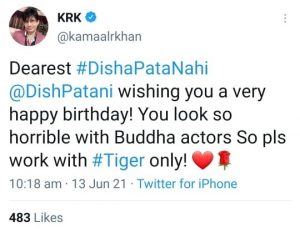 KRK tweeted, 'Dear Disha Patani wish you a very happy birthday. If you look very bad with the old star please only work with Tiger". KRK has also posted a heart emoji with it. KRK's tweet is now going viral and fans are reacting a lot to it. Some are supporting KRK's tweet while some are against him. Well, what remains to be seen is what Salman or his legal team reacts to this.
In fact, Salman has filed a defamation case against KRK some time ago. After a defamation case was registered against him, KRK said salman has registered a case against him because he has given a poor review of his film Radhe. However, Salman's legal team had issued a statement saying that they filed a case against KRK because KRK has been making wrong comments against him for a long time.
5 Stunning Places To Visit In South Korea
TRAVELLING TO & AROUND SCOTLAND